Istanbul - Southern Turkey has been struck by a powerful earthquake along the Syrian border. Authorities have confirmed nearly one thousand dead and hundreds more injured, with a state of emergency declared. Calls are out for international assistance.
A man calls out to someone buried deep in the rubble of a collapsed apartment block in the southern city of Malatya. All over southern Turkey, rescuers are in a desperate race against time to find survivors following one of the most powerful earthquakes to strike the country in decades. Videos on social media show streets of destroyed apartment blocks due to the quake, which had a magnitude of 7.8 according to preliminary readings.
Collapsing buildings hampered rescue efforts as powerful aftershocks shook the region. Professor Orhan Tatar of Turkey's disaster response agency AFAD warned of the scale of aftershocks.
Tatar said, "There have been more than a hundred aftershocks, three of them are above 6.6, and there has just been another earthquake centered in the town of Elbistan triggered by the initial quake."
Turkish Vice President Fuat Oktay said more than 1,700 buildings had collapsed by late morning. Interior Minister Suleyman Soylu said all the country's resources are being mobilized.
Soylu said all of Turkey's governors were on duty. He added that gendarmerie, police, the Turkish Armed Forces, disaster and emergency teams, Turkish Red Crescent, and search and rescue teams from all over the country were being dispatched to the region.
Earthquake epicenter
The earthquake struck at 4:15 a.m. local time between the cities of Karamanmaras and Gaziantep.
Two state hospitals were among the buildings that collapsed Monday in southern Turkey. The strong quake surpasses the 1999 shock that hit close to Istanbul and killed more than 17,000 people.
Many people in the region were on the streets in sub-zero temperatures.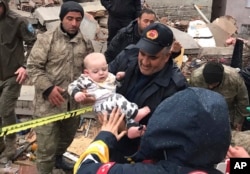 A baby is rescued from a destroyed building in Malatya, Turkey, Feb. 6, 2023. (DIA Images via AP)
Severe winter conditions are hampering rescue efforts due to heavy snow in the region. Many roads have been heavily damaged, and at least one runway at an airport was rendered unusable.
The Turkish government declared a state of emergency and called for international assistance.
The United States issued a statement saying 'any and all' needed assistance would be provided. Ukraine, India, and Israel are also offering support as Turkey mobilizes for what is expected to be one of the largest emergency operations in the country's history. Syrian health officials said at least 371 people were killed in the government-held areas, while rescue workers said at least 221 others died in rebel-controlled areas.
Chris Hannas contributed to this report.