A powerful 7.8 magnitude earthquake rocked wide parts of Turkey and Syria early Monday, toppling hundreds of buildings and killing more than 3,400 people, with more residents believed to be trapped under the rubble.
The epicenter of the pre-dawn earthquake was near Gaziantep, close to the Turkey-Syria border, and it was followed by a separate magnitude 7.5 earthquake about 100 kilometers (62 miles) north in the early afternoon.
On both sides of the border, residents were jolted awake as they rushed outside on a cold, rainy and snowy night. Many buildings were flattened into piles of pancaked floors, with aftershocks continuing to rattle the region.
In Pictures: Powerful Earthquake Hits Turkey, Syria
Officials in Turkey said at least 2,316 people were killed with more than 13,000 injured. They said more than 7,800 people had been rescued and that at least 5,600 buildings had collapsed. Syria reported 1,444 deaths and about 3,500 people injured, according to figures from the Damascus government.
Turkish President Recep Tayyip Erdogan said, 'Because the debris removal efforts are continuing in many buildings in the earthquake zone, we do not know how high the number of dead and injured will rise.'
He declared seven days of national mourning.
Awale Ahmed Darfa, a Somali student in Gaziantep at the epicenter, told VOA Somali, 'A large earthquake hit while we were asleep. ... The situation turned critical very quickly. We heard screams, cries and people running. The buildings were shaking as if they were shaken by Jinn [evil spirits]. Everyone ran to wherever they felt they would be safe.'
The student added, 'We are now outside since we left our homes around 4 a.m. There is a problem being outside - it is rainy, cold, windy, and we are not wearing protective clothing. Outside, everyone is wearing what they were wearing [while] asleep. Some people do not have shoes. They told us we could not go back to the buildings because of the fear [of aftershocks]. That is the disaster here.'


Search, Rescue Efforts Underway in Turkey After Deadly Quake
The earthquake struck a region enveloped on both sides of the border by more than a decade of civil war in Syria. On the Syrian side, the swath affected is divided between government-held territory and the country's last opposition-held enclave, which is surrounded by Russian-backed government forces. Turkey, meanwhile, is home to millions of refugees from the conflict.
The opposition-held regions in Syria are packed with about 4 million people displaced from other parts of the country by the fighting. Many of them live in buildings that are already damaged from past bombardments. On Monday, hundreds of families remained trapped in rubble, an opposition emergency organization, the White Helmets, said in a statement.
Earthquake epicenter
Strained health facilities and hospitals were quickly filled with the injured, rescue workers said. Others had to be emptied, including a maternity hospital, according to the SAMS medical organization.
Monday's quake destroyed the historic Gaziantep Castle and many other historic buildings in the area.
In the Turkish city of Mersin, resident Nurhan Kiral told VOA's Turkish Service that the earthquake lasted about a minute.
'We woke up with the tremor and got out of the bed. Rubble fell from the chimney. Rubble fell from the empty space between the buildings. It was terrifying,' Kiral said.
The Syrian American Medical Society said its hospitals in Syria were 'overwhelmed with patients filling the hallways.'
'Many hospitals are full, but some critical facilities, including Al Dana Hospital, had to evacuate patients after sustaining severe damage from the earthquake,' the group said in a statement. 'Likewise, the Idleb Maternity Hospital was forced to transfer all newborns to a nearby hospital.'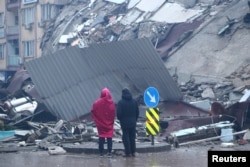 People stand in front of a collapsed building after an earthquake in Kahramanmaras, Turkey, Feb. 6, 2023.
Temperatures in some areas were expected to drop to near freezing overnight.
Residents in Turkey's western city of Izmir organized a clothing donation campaign to help the earthquake victims.
Emre Demirpolat told VOA's Turkish Service, 'We brought blankets and heaters. We need to be united. ... In such bad times, we must support each other. While we can't stay outside for 10 minutes in this cold, people there shudder to think about the loss of their homes and when they will get to go to a warm place.'
In other parts of Turkey, residents struggled to find transportation to travel to the earthquake-stricken area to see their relatives and loved ones.
Serdar Özdemir, an Ankara resident, told VOA's Turkish Service he was finally able to get a bus ticket to go to the city Malatya, after not being able to find a car rental.
'I can't rent a car. There's no way to go. I have been looking for a car here for hours.'
Members of the Disaster Response Special Unit with their dogs wait to board the Hellenic Air Force C-130, in order to fly to Turkey to help in the aftermath of an earthquake, before departing from the military airport of Elefsina, Greece, Feb. 6, 2023.
Meanwhile, countries around the world were rushing to send rescue workers, equipment and medical aid to Turkey and Syria.
Erdogan said 45 countries had offered to help with search and rescue efforts in Turkey.
Timeline: Major Deadly Earthquakes in the Past Two Decades
Turkey is in one of the world's most active earthquake zones.
In 1999, more than 17,000 people were killed when a 7.4-magnitude earthquake - the worst to hit Turkey in decades - struck near Duzce, in the northwest of the country.
In October 2022, a magnitude 7.0-quake hit the Aegean Sea, killing 116 people and wounding more than 1,000. All but two of the victims were in Izmir, Turkey.
Some material for this article came from The Associated Press, Agence France-Presse and Reuters.