Latest Developments:
Israel denies reports that it ordered evacuation of Shifa Hospital. Says it had talked with Shifa Hospital director about providing a secure route out of the hospital for those who wanted to evacuate.
Palestinian telecommunications company partially restores phone and internet services in Gaza after fuel shipments arrive.
Five fighters in the armed wing of Palestinian President Mahmoud Abbas' Fatah party were killed overnight in a rare Israeli airstrike on the occupied West Bank, the Palestinian Red Crescent and Fatah sources said.
German and Turkish leaders traded barbs over Israel's war on Hamas; Chancellor Olaf Scholz stressed Israel's right to self-defense, while President Recep Tayyip Erdogan demanded an end to Israel's military operation.
Patients, staff and displaced persons are leaving Gaza's Shifa Hospital Saturday amid conflicting reports that Israel gave the facility one hour to evacuate.
Patients too sick to move remain behind with a medical skeleton staff.
The Israel Defense Forces denied that it ordered the evacuation of Shifa Hospital, Gaza's largest medical facility.
"At no point did the IDF order the evacuation of patients or medical teams and, in fact, proposed that any request for medical evacuation will be facilitated by the IDF," the military group said in a statement on Saturday.
The IDF said it talked with the hospital's director about providing a safe passage for the people who wanted to leave the hospital.
"This morning, the IDF acceded to the request of the director of Shifa hospital to enable additional Gazans who were in the hospital and would like to evacuate to do so via the secure route," IDF said in a statement.
Agence France-Presse reported Saturday that Israel gave Shifa Hospital one hour to evacuate.
Israel believes that Gaza's largest medical facility houses Hamas militants in chambers underneath the hospital.
Israel has called for the evacuation of the hospital before, but medical staff say they have patients who cannot be moved.
Over 2,000 patients, staff and displaced Palestinians were sheltering at the hospital when Israeli troops moved in Wednesday, according to the United Nations.
Fuel allows some telecommunications
The Palestinian telecommunications company Paltel said phone and internet services in Gaza had been partially restored after fuel shipments were delivered to the region.
A first shipment of around 17,000 liters (4,500 gallons) of fuel passed through the Rafah crossing from Egypt late Friday, a Palestinian border official told AFP.
Paltel said it began restoring its network after receiving fuel to restart the generators that power its equipment.
Under growing pressure from the United States, Israel said Friday that it would allow small shipments of fuel into the Gaza Strip for humanitarian purposes, as U.N. aid convoys remained suspended for a third consecutive day.
In Washington, a State Department official confirmed that Israel agreed to allow in 140,000 liters (36,984 gallons) of fuel every 48 hours for southern Gaza through the Rafah border crossing with Egypt - 120,000 liters (31,700 gallons) for UNRWA aid trucks, desalination plants, sewage facilities and hospitals, and 20,000 liters (5,283 gallons) for telecommunications generators.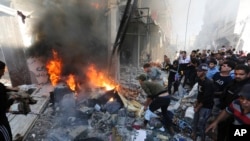 Palestinians search for survivors after an Israeli strike on Rafah, Gaza Strip, Nov. 17, 2023.
U.N. humanitarian chief Martin Griffiths said Friday that around 200,000 liters (52,834 gallons) per day is needed "to meet the minimum of our humanitarian responsibilities across Gaza - north and south."
Power shortages at Shifa Hospital reportedly have resulted in patient deaths, including the deaths of infants.
The lack of fuel brought aid efforts to a halt this week, caused a telecommunications blackout and crippled hospitals, water desalination plants, sewage facilities and bakeries.
Israel imposed a blockade on the Hamas-controlled Gaza Strip following the group's October 7 terror attack that killed more than 1,200 people in southern Israel. Hamas has been designated a terrorist organization by the U.S., U.K, EU and others.
Because of the fuel situation and communications blackout, UNRWA, the U.N. agency that assists Palestinians, was unable for a third consecutive day to run aid convoys into Gaza, where 2.2 million people, virtually the entire population, are in need of humanitarian assistance.
"Our work has become mission impossible," Nancy Boucly, UNRWA acting deputy commissioner-general, told a meeting at U.N. headquarters about Gaza's humanitarian situation.
A member of Israeli forces stands next to a security wall with Hebrew writing that reads 'Path to Peace' at the Kibbutz Netiv Haasara near the border with Gaza Strip on Nov. 17, 2023.
Evacuation orders
Israel issued new warnings Friday for Palestinians in the southern city of Khan Younis to relocate, indicating a possible expansion of its war against Hamas into areas of the Gaza Strip where Israeli officials had told people earlier that it was safe to stay.
'We're asking people to relocate," Mark Regev, an aide to Israeli Prime Minister Benjamin Netanyahu, told MSNBC.
"I know it's not easy for many of them, but we don't want to see civilians caught up in the crossfire," he said.
Palestinian authorities in Gaza now say more than 12,000 people - about 5,000 of them children - have been killed since Israel launched a major air and ground offensive in response to the October 7 Hamas attack. The United Nations deems those figures credible, although they have not been updated since November 10 because of the collapse of services and communications at hospitals in northern Gaza.
VOA United Nations correspondent Margaret Besheer contributed to this report. Some information for this article came from The Associated Press, Reuters and Agence France-Presse.